Castle of Karak
The crusaders built the Castle and called it Crac des Moabites' under Paganus in the 12th century (1140s). The construction was finished in 1161.. In Mamluk times it was expanded by Baybars the Mamluk ruler, who permanently stopped the onslaught of the Mongols under Holagu Khan against Egypt and Syria at the battle of Ain Jalout. In 1840 Ibrahim Pasha, son of Ali Pasha the Great, who waged and won many battles against the Ottomans, destroyed its fortifications in his campaign against a revolt by the people in Karak.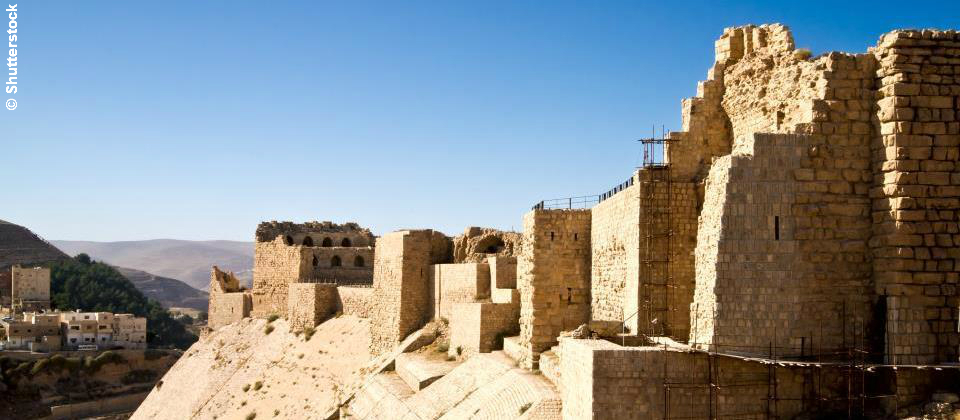 The castle is a notable example of Crusader architecture. In the lower court of the castle, the Karak Archaeological Museum was established inside, in 1980. It introduces the local history and archaeology of al-Karak region, and remains from the Moabite land going through the Nabataean, Roman, Byzantine, Islamic and Crusader periods. The collections date from the Neolithic up to the late Islamic periods and come from the Al Karak and Tafila regions.
The town is built on a triangular plateau, with the castle at its narrow southern tip. The city now continues to boast a number of restored nineteenth to twentieth century Ottoman buildings, however, undoubtedly it is the Castle that dominates its surroundings. In 1884 a group of Greek Orthodox Christian migrants from Karak left to Madaba and came upon one of the world's greatest discoveries, part of the oldest map in the world for Palestine.