The Water Temple
Two kilometers from the center of Zaghouan we found the Water Temple, that rests at the foot of Mount Zaghouan. It was actually a nymphaeum, that is, a big fountain. The temple testifies to the importance of water to such a point that it was venerated by the Romans. It was part of the complex system that provided the city of Carthage with water. Its purpose was to provide Carthage with much needed water via aqueducts. In fact, in that moment Carthage was suffering a five-year drought.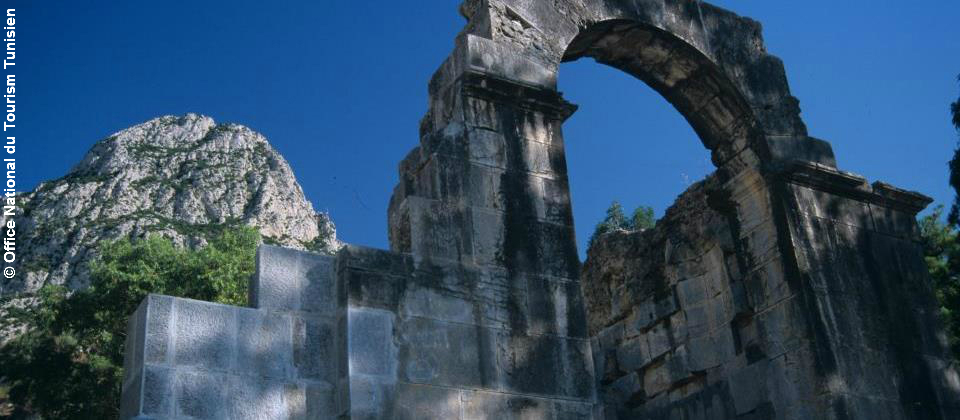 It also reflects the grandeur of the Roman architectural art. The Water Temple was built during the reign of Emperor Hadrian, between 117 and 138 AD, on the spot of an abundant spring. It has semicircular shape, and is embellished with 12 niches which shielded statues featuring the twelve months of the year. It has a big basin in the form of "eight" that filtered the water, and let it through toward the aqueduct.
The Aqueduct
The construction of the aqueduct ordered by Emperor Hadrian –it was named after him for a while– was 132 km long, including the main part from Zaghouan to Carthage (90.431 km), to which should be added the most upstream part, called Ain Jouggar, a little over 40 km . It is considered as being the longest and most outstanding aqueduct in the Roman world. Its debit was estimated at thirty million litres per day. Its most spectacular part is located near Oued Meliane (Meliane river). The aqueduct crossed the river thanks to a double bridge of 126 meters long and 24 meters high. It then went underground to reappear again above ground near Tunis, from which it reached the Malga cisterns in Carthage. Neglected by the Vandals, the aqueducts were restored by the Hafsid Caliph al-Moustansar Billah, in the 13th century.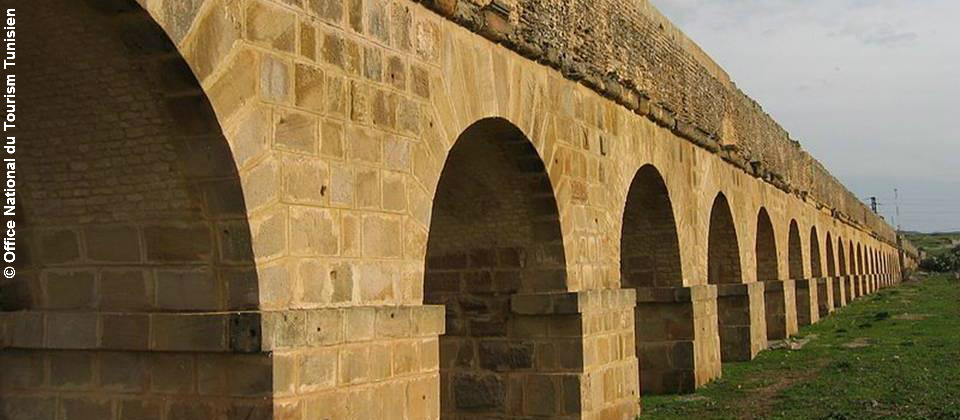 Arch of Triumph
This Roman arch, located in the center of the modern city, is the only vestige that remains from the ancient Roman city of Ziqua.
Zawiya of Sidi Ali Azouz
Zawiya of Sidi Ali Azouz, patron saint of Tunisia, is placed at the top of the hill on which stands Zaghouan. Built in the 19th century, it is outstanding its dome covered with green ceramic.