Ortigia
Our visit to Syracuse begins in Ortigia, an islet connected to the mainland by two bridges, the site of the first settlement in Syracuse. There are obvious traces of the different historical periods that have characterized the rich past of Syracuse, and a short distance from the dock, in the square called Largo XXV Luglio, are the remains of one of the oldest religious buildings built by the Greeks in Sicily, the sixth century Temple of Apollo, where an inscription on one of the steps linked it with the worship of this God.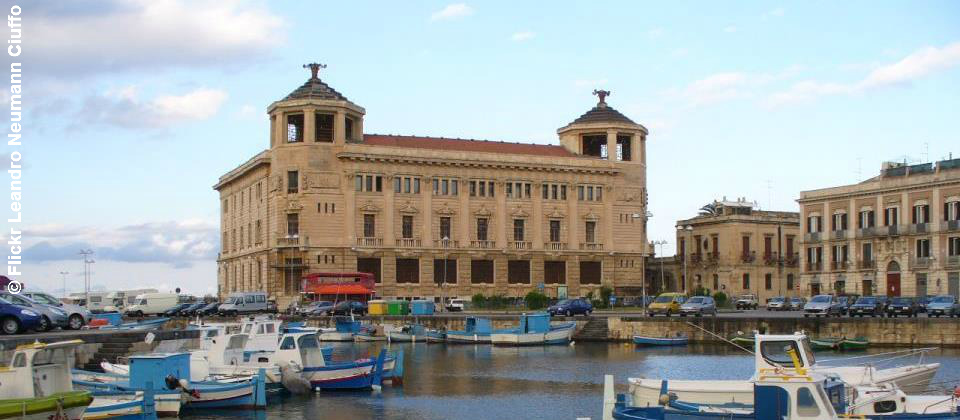 Piazza Duomo is the city's living-room, where you can admire beautiful Baroque palaces, the Palace of Beneventano del Bosco and the Palace of the Senate; the Church of Santa Lucia: the Church of the Jesuits with its splendid façade; and the Civic Gallery of Contemporary Art in what was once a convent.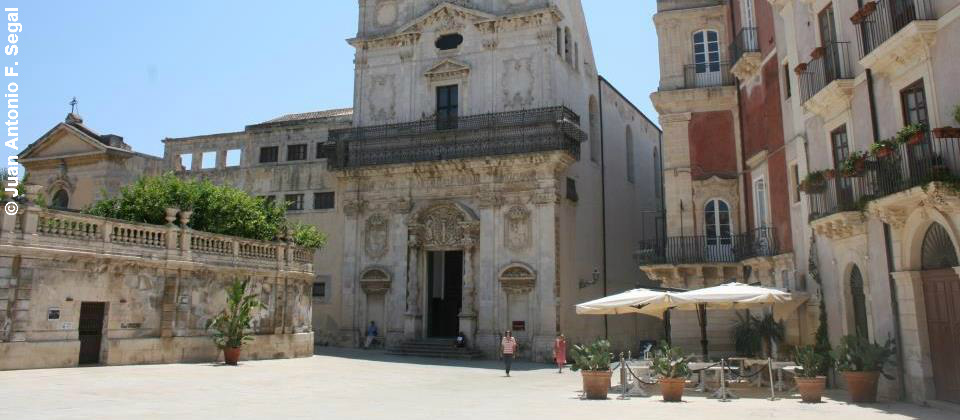 The Piazza Duomo is also the home of the Duomo or Cathedral of Syracuse. Initially a temple, later a Cathedral, then a mosque and finally a triumph of Baroque architecture, the current façade was built from 1728 to 1753, encompassing the ancient Temple of Minerva, which itself was constructed on top of an even more ancient and very famous Temple of Athena. It is the only example in the world of a Greek temple whose function and usability as a place of worship has been conserved uninterrupted since ancient times.
Palazzo Bellomo Regional Gallery
Church of San Benedetto
Early Christian Basilica of San Martino
Our tour continues with a visit to the Palazzo Bellomo Regional Gallery (Via Capodieci 16), whose pictures include the Annunciation by Antonella da Messina, and where we can also admire Arabic and Sicilian ceramics, Cretan-Venetian paintings, and a series of sacred and artistic objects, in the Church of San Benedetto and the nearby Early Christian Basilica of San Martino, which has a Gothic-Catalan portico.
Fonte Aretusa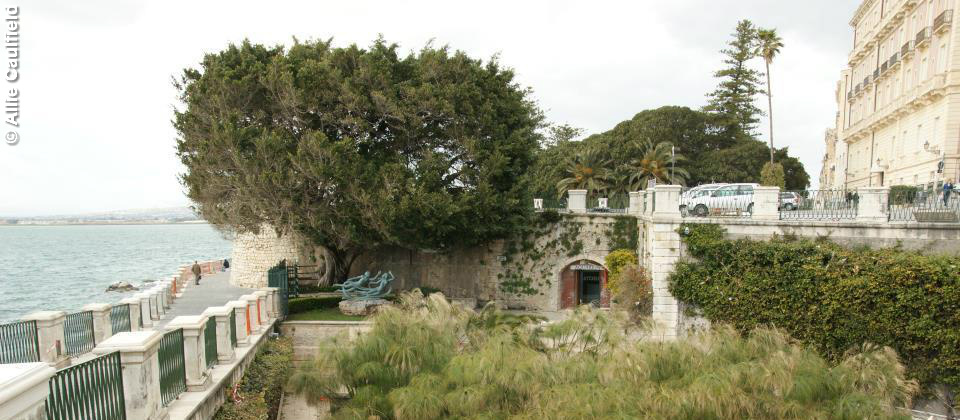 Symbol of the city since ancient times, the Fonte Aretusa is a fresh water spring which rises in a cave a few metres from the sea, in the middle of which there is a bed of papyrus. According to the legend, Aretusa was a nymph who was changed into a spring by the Goddess Artemis, a myth mentioned by Virgil and by Ovid in the Metamorphosis. In the vicinity, in Via Pompeo Picherali, we can see the Arabic-Catalan balcony of the Palazzo Migliaccio. We can also visit: the Palazzo Mergulense-Montalto, a splendid example of Gothic-Chiaramontana architecture which was built in the 14th century; Piazza Archimede, which is home to the Norman-style Palazzo Lanza in the centre of which we can admire the nineteenth century Fountain of Artemis; the Church of San Francesco all'Immacolata; the Church of San Filippo Neri, the Palazzo Bongiovanni and the Palazzo Impellizzeri.