Feast of Maria SS. Del Soccorso
Celebrated in honour of the town's Patron Saint, the feast is held from 19th to 21st August with a traditional procession to the sea, where they re-enact the naval battle fought out between the Spanish and the English in 1718 just off the coast of Castellammare. It is said that the battle stopped when the statue of the Virgin reached the coast.
The historical events of 1718 are played out on July 13th, every other year, with the performance of "Nostra Principalissima Patrona", which depicts the burning of the castle and the flight of the English. The show concludes at sea with a procession of fishing-boats.
Festa di San Vito Martire in San Vito lo Capo
On June 15th, the town of San Vito demonstrates its ardent devotion to its Patron Saint, with a series of processions, rituals and games. The ancient ritual began in the Chapel of Santa Crescenzia, on the main road, about two miles from the sea; Pilgrims on horseback and on foot used to throw a stone inside the chapel and walk the road that lead to the shrine without turning their faces, so imitating San Vito (St. Vitus) the Martyr, who had withstood temptation by refusing to look back. The spiritual atmosphere is particularly strong at sunset, when the city harbour becomes the scene of a colourful procession out to sea. All the boats line up behind the vessel transporting San Vito, St. Crescenzia and San Modesto so evoking the landing of the Saint.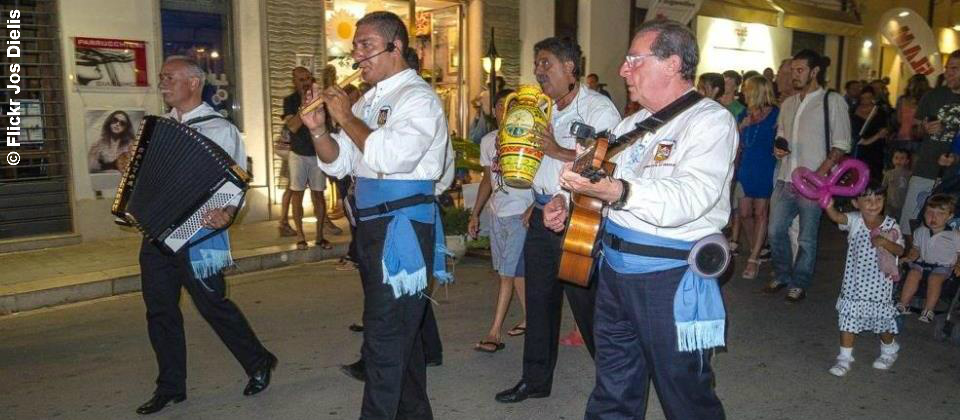 Both Castellammare del Golfo and San Vito lo Capo organize cultural events, fairs and festivals throughout the year. These include the Summer Jazz Festival in Castellammare del Golfo, and the Panicunzatu Fest in Scopello where you can taste local delicacies and listen to traditional music.
San Vito lo Capo has become particularly important on the gastronomic calendar because of its "Cous Cous Fest" in September, an international celebration in which all the Mediterranean countries are involved, so making the village a crossroads of peoples, cultures and traditions.