Sciacca
Sciacca, at around 60 kilometres from Agrigento, is the oldest spa-town in Sicily. Frequented by the Greeks of Selinunte and later by the Romans, who called it Thermae Selinuntinae, it was conquered by the Arabs in 840, who gave it its current name (as-saqqah = crevice). It thereafter became an important trading and agricultural centre. The Islamic street system is evident even today in the Rabato and Cadda neighbourhoods, with their courtyards and blind alleys. In Norman times it was surrounded by impressive defensive walls and in the subsequent centuries was embellished with beautiful civil, military and religious monuments that still adorn the old town. The Monte San Calogero Nature Reserve, situated behind the city on Monte Kronio, houses a complex of caves of great natural and archaeological interest.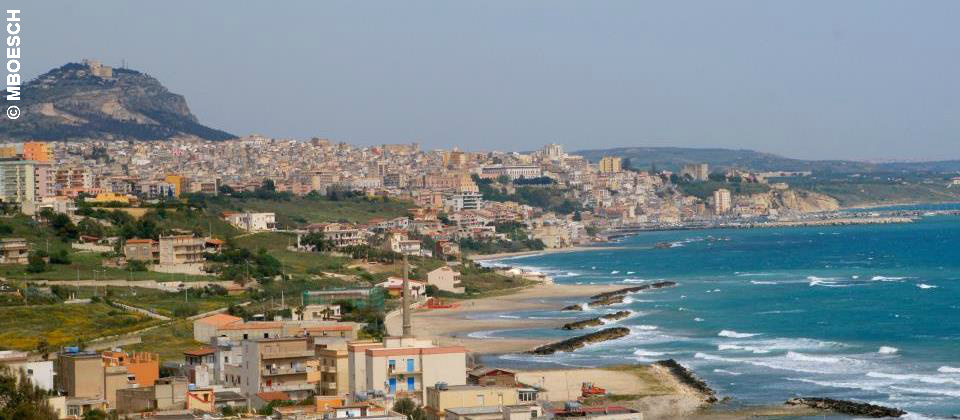 In the upper northeast corner of the city, on the outer edge of the old walls, lies the Castello dei Luna, built in the 14th century. It is reputed to be the site of a bloody clash between two noble mediaeval families known as the "case of Sciacca". This mighty fortress remained intact until 1740, when it was severely damaged in a devastating earthquake. It is used today as a venue for cultural events. It retains part of the walls, the cylindrical tower and the base of the keep, but the architecture of the Counts' Palace, the chapel and the central square is hardly visible.
Sutera-Mussomeli
The village of Sutera (about 38 kilometres from Agrigento) is at the foot of Mount "San Paolino" and has a mediaeval town structure with narrow streets made of solid lava and limestone that seem to cling to the side of the rock, shaping the inhabited centre. In prehistoric times it was occupied by indigenous peoples, as evidenced by the numerous caves scattered throughout the territory. The centre was later hellenized by Greeks from Gela and Agrigento, who were moving inland. The village is divided into three districts: Rabato, where a famous live nativity play is held at Christmas time (registered in the REIS –Register of Expressions of Intangible Heritage of Sicily–), Rabatello and Giardinello, which was built during the Norman-Swabian period. The Rabato, the oldest district in Sutera, was founded by the Arabs. It is characterized by narrow streets, beams and "ascichi" typical features of Arab civilization. The Chiesa Madre (Mother Church) is located in this district.