The theatre of Taormina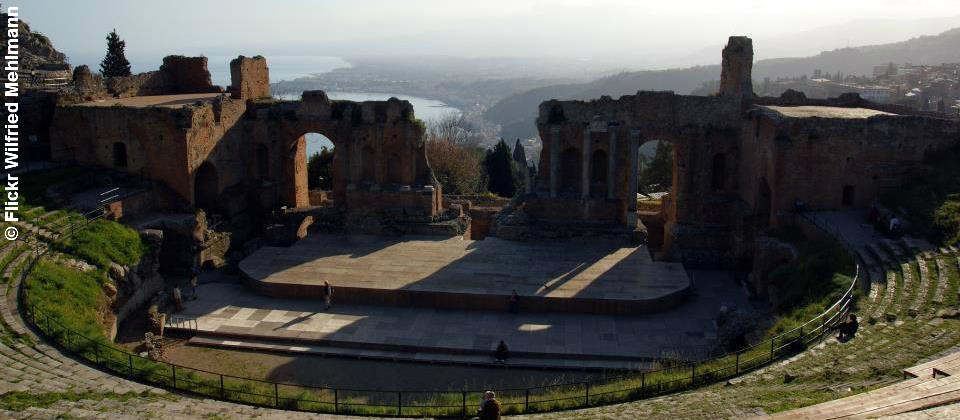 The theatre of Taormina is the second largest classical theatre in Sicily, after that of Syracuse. It was built by the Ancient Greeks, who made the most of the natural slopes of the hill, and then almost completely reconstructed and enlarged by the Romans during the 2nd century AD.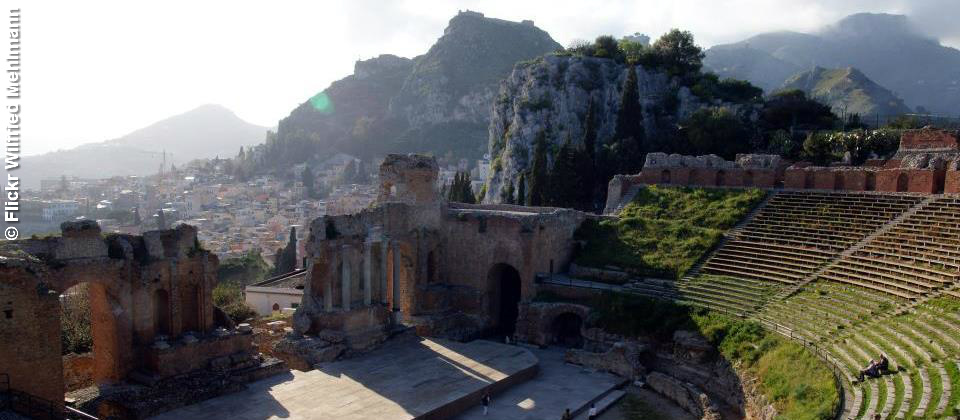 The theatre has remarkable acoustics and a magnificent setting with Mount Etna in the background. Today it hosts important cultural and international events, like Taormina Arte during the summer months.
Church of San Pancrazio
Before walking through the city centre on Corso Umberto I, just outside Porta Messina you come to the small 16th century Church of San Pancrazio, built on the ruins of the Hellenistic temple dedicated to Jupiter Serapis.
Palazzo Corvaja
In the centre of the city is Piazza Vittorio Emanuele with the Palazzo Corvaja, built in different stages between the 11th and 15th centuries, with its original structure dating back to the Arab period. Today it hosts the Sicilian Museum of Folk Arts and Traditions with traditional artefacts, including carts, puppets, folk costumes, ceramics, etc.
Saint Catherine of Alexandria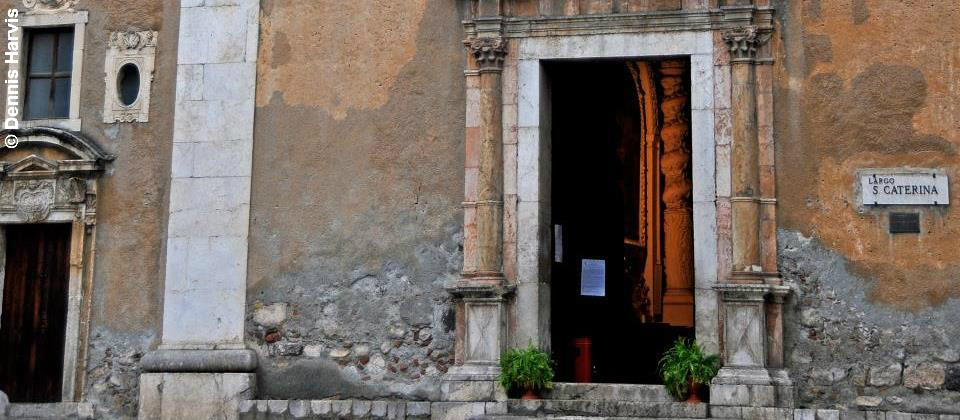 Roman Odeon
The Villa Comunale
Not far from Palazzo Corvaja is the 17th church dedicated to Saint Catherine of Alexandria. This church was built on the ruins of the adjacent Roman Odeon, dating from the Imperial Age, which itself was built on the ruins of a Greek temple. Nearby, the Villa Comunale (Town Gardens) offers beautiful views of Mount Etna and along the Sicilian coast.
Piazza IX Aprile
Clock tower
Awash with pavement bars, shops and souvenirs, Piazza IX Aprile is located at the central point of Corso Umberto I, and offers splendid panoramic views overlooking the impressive Mount Etna, Giardini Naxos and the ancient Greek theatre. It is also the site of the former Church of Sant' Agostino (now the Town Library), the Baroque church dedicated to St. Joseph and the Hotel Palazzo Ciampoli in Gothic-Catalan style. From here, you go through the Porta di Mezzo into the mediaeval quarter or Borgo. The Clock tower is the gateway to the old town and separates the Classical and Hellenistic parts of Taormina.
Cathedral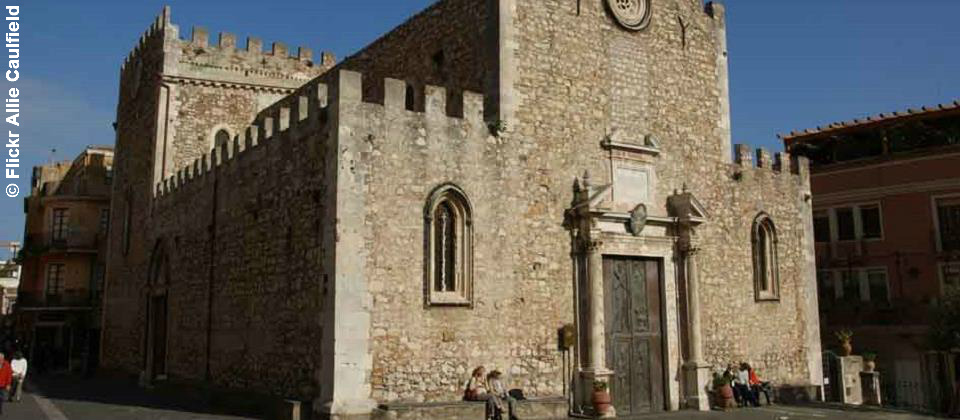 The Cathedral is in Piazza Duomo. It is dedicated to St. Nicholas and was built in the thirteenth century and altered several times subsequently. The façade has a richly decorated portico, single-light windows and a small rose window. In front of the church is a Baroque fountain dating from 1635, with a statue of a centaur, the symbol of Taormina. Located nearby is the former Dominican Convent, today one of the most famous deluxe hotels in Italy.